Michael O'Neill (1953 – 2018)
Obituary for Professor Michael O'Neill (1953-2018)
Distinguished Professor of English Literature and Acclaimed Poet
Heidi Thomson
Professor Michael O'Neill, who died on 21 December 2018, was a brilliant Romantic scholar and editor, who produced many authored books, edited collections, chapters, and journal articles during his academic career at Durham University which spanned almost 40 years. Michael's critical and editorial interest in poetic self-awareness and poetic dialogues between Romantic and Modern verse extended into his life: he generously served on the editorial boards of the Keats-Shelley Review, Romanticism, The Wordsworth Circle, Romantic Circles, Romanticism and Victorianism on the Net. He was a Founding Fellow of the English Association, and served as the Chair of the Wordsworth Conference Foundation, and of the International Byron Society's Advisory Board.
This short obituary cannot possibly do justice to the sheer range, volume, and quality of Michael's scholarship. His monographs include The Human Mind's Imaginings: Conflict and Achievement in Shelley's Poetry (1989), Romanticism and the Self-Conscious Poem (1997), and The All-Sustaining Air: Romantic Legacies and Renewals in British, American, and Irish Poetry since 1900. The chapters in these books are masterclasses in reading poetry: with supreme skill and insight, Michael manages to articulate what some of us may have caught glimpses of but could never have expressed so richly. In all of his work, the poem came first; he elucidated what the poem actually did (as opposed to what the poem should have done according to various theories). He loved and knew poetry like no other. The circle will be unbroken with the publication by Oxford University Press of Shelleyan Reimaginings and Influence: New Relations in 2019, thirty years after his first book about Shelley.
Michael's love of poetry is also bound up in his achievements as a textual editor and scholar, with editions of Shelley for Oxford (2003) and Johns Hopkins UP (2012), in addition to his collaboration with Donald Reiman on the fair-copy manuscripts of Shelley's poem for Garland (1997).
Michael had an extraordinary talent for masterminding and executing large editing projects, exercises that may be compared to herding cats and which testify to his superb diplomacy and ability to deal with a wide range of people at various stages in their careers. Unfailingly courteous, precise, and encouraging in his guidance and responses to us contributors, Michael published, among many other works, Literature of the Romantic Period: A Bibliographical Guide (Clarendon, 1989), the monumental Cambridge History of English Poetry (2010), and John Keats in Context (Cambridge, 2017). An email, even if sent from a distant timezone, would seldom be unanswered for more than a couple of hours.
Above all, Michael lived for his love of poetry and he had a tremendous gift for talking about the intricacies of poetic form and poetic dynamics. His keynote lectures, conference presentations, and poetry readings always conveyed the passion and the intellectual engagement of a superb reader at work. His handouts, sometimes on A3 paper to accommodate his many quotations properly, and often consisting of various collated pages, were legendary. They were treasure-troves of pleasure and interest, juxtaposing lines of Shelley, Wordsworth, or Keats, with verse by Bishop, Stevens, Clampitt. Time and again he resorted to close reading, recharging mostly canonical texts with freshness and vigour, making them new through interactive interpretive engagement. He never pushed a poem into a rigid interpretation of his own making; instead, he managed to let the poem do the talking, acting as a mediator for the various sounds, techniques, and formal configurations which constitute meaning. One would always want to revisit the poems Michael had just talked about.
Michael was also an award-winning poet, receiving  an Eric Gregory Award (1983) and a Cholmondeley Award for Poets (1990). His collections included The Stripped Bed (1990), Wheel (2008), and Gangs of Shadow (2014). After his diagnosis of oesophageal cancer in the autumn of 2017 Michael responded to the poor prognosis with exceptional resilience. The vicissitudes of illness and loss, coupled with the instinctive will for inspired survival, were articulated in some of his finest poetry, collected in his fourth collection, Return of the Gift (Arc, 2018), which received a Special Commendation by the Poetry Book Society. He gave many public readings of his own work during his last year, performing the wry resignation of his verse with gusto and grace: "I couldn't think except through literature / which gave me guises, methods of response, / a way of cloaking the brute fact of cancer, / implausible, I grant, but a defence" (from "Those Days" in Return of the Gift). His poetry readings, I realize now, were a gracious form of leave taking, of giving his family, friends and colleagues a token of what he wanted to be remembered by. A new collection, Crash and Burn, with poems written over the last year, is forthcoming from Arc this year.
Michael's commitment to his institution speaks from his long stints as Head of Department and Director (Arts and Humanities) of the Institute of Advanced Study at Durham University. But he did much more than any official record can properly register. His 'nameless, unremembered acts / Of kindness and of love' in the form of examining theses, supervising, teaching, reading and assessing journal submissions, writing supporting statements for book manuscripts, grant applications and promotion applications were numerous and they were executed with the same finesse he brought to editorial and critical projects. His academic generosity was exemplary and many Romanticists owe their career, in one form or another, to him.
'Reading Hamlet in Purgatory', Michael wrote on 3 December, in his final email to me, still reading and still confirming the affirmative and productive engagement with anxiety and fear he had already been exploring in Romanticism and the Self-Conscious Poem (1997). He will be greatly missed. On the 5th of January Michael was honoured posthumously with the Distinguished Scholar Award of the Keats-Shelley Association of American at the MLA Convention in Chicago.
He is survived by his wife Posy, his children Daniel and Melanie, and his granddaughter Millie.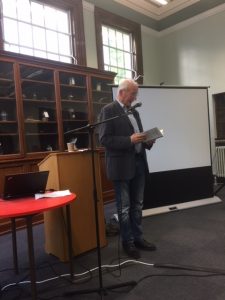 Michael O'Neill, reading from Return of the Gift at the Keats Foundation Conference in May 2018.